If you've been following Honor Music posts, you'll see this is an authentic (made by an RIAA approved award manufacturer), first presentation (correct format for date of certification), and first state (unopened-all original parts) award. These boldfaced components of value, help you separate real awards from display, souvenir and "fake" awards.
To make comparisons by format of award, take a look at the award formats in the Awards Gallery to the right, and new each week in Award Stories by Email.
"Homecoming" was the sophomore LP from America. Released in November 1972, it was certified gold on December 18, 1972 and reached a Billboard peak chart position of #9.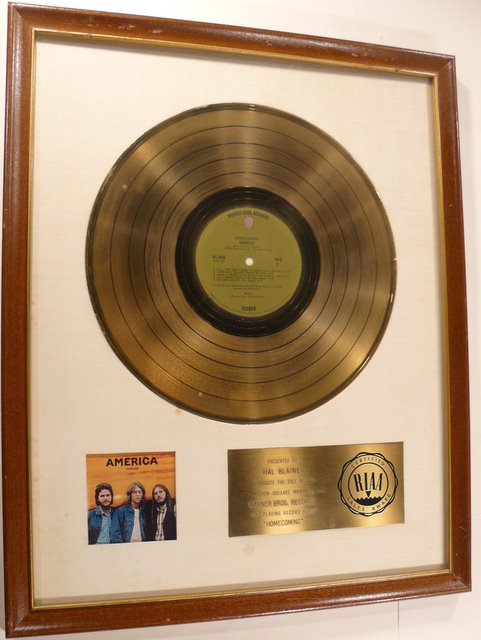 This award is presented to Hal Blaine, a member of the Rock & Roll Hall of Fame. His drumming as part of the Wrecking Crew is a memorable part of literally hundreds (thousands?) of songs, including forty #1 hits! Artist presentations generally have more value.
Condition is good, with some normal scratching on the frame, small stains on the matte and the original wire hanging removed and replaced with two top hangings.
The original backing paper includes Hal's signature, and the appropriate manufacturer's sticker from New York Frame and Picture.
Seeing the back of an award, in addition to the front and plate, offers insights to an awards condition and authenticity. That's why I recommend asking for and sharing those three pictures, when buying or selling awards.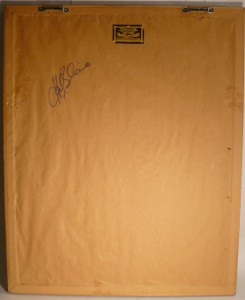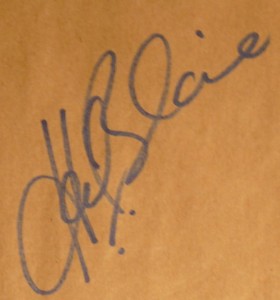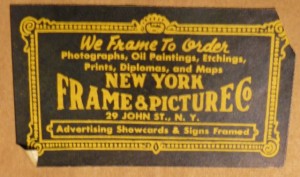 ________________________________
Submit your favorite awards (and photos) for spotlighting
here
.
Sign up for award stories and collector news emails
here
.
 Share Want & Sell Lists with other collectors
here
.
See more award stories in the right hand column.