The Beatles wouldn't be The Beatles without Brian Epstein. The Eagles wouldn't be The Eagles without Irving Azoff.  Alice Cooper wouldn't be Alice Cooper with out Shep Gordon.
Names on presentation plates tell tales of the music business, and the people involved in its successes. Artists, along with the individuals who provide support in shaping and exposing the talent of the artists, are honored. Gold and Platinum records are the only awards that recognize both.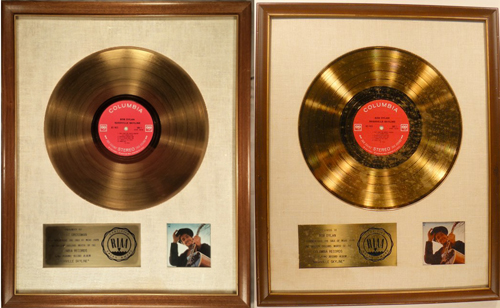 note: pictures taken with different cameras and lighting.
Here you see, side by side, two Authentic, First Presentation, Second-State, reverse White Mattes, for Nashville Skyline (certified gold on 5/7/69). One presented to Bob Dylan, and the other to his influential manager Albert Grossman. Reverse White Mattes were the RIAA format for approximately 6 months from 2/69 to 8/69 in which the album mini was moved from the left hand side of the plate to the right.