I vaguely remember the name of country singer Faron Young, you may have never heard of him. I don't think I ever heard his music until I wrote this post. Yet this award from Mercury Records caught my attention. This type of plaque connects the music, and the value of the charts in marketing and celebrating music (and hopefully getting more publicity).
From 1955 to 1961 Faron Young had 4 singles that were number one on the Billboard country charts. "If I Ever Fall In Love (With a Honky Tonk Girl)" got to #1 on the Record World Magazine country charts on July 18, 1970 (it peaked at #4 on the Billboard country charts).
None of his hits were certified gold. This third, in our mini-series of In-House awards (including Loggins & Messina "Your Mama Can't Dance" and Donovan's Greatest Hits"), is an example of how labels used awards to celebrate and promote, without needing a million seller.
The front, chart and plate …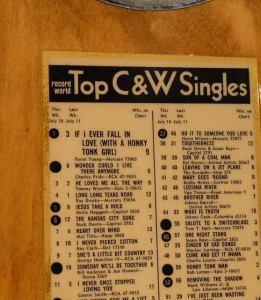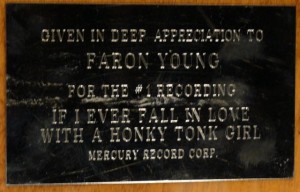 The original back, hanging and stickers ….