Submit pictures of your awards for spotlighting.  Join Honor Music Awards on Facebook.  Receive free collector news and award stories by Email.
_____________________________
Guns N' Roses, with enough music for two albums, released Use Your Illusion I and Use Your Illusion II on September 17, 1991. The tactic paid off when the albums debuted at No. 2 and No. 1 respectively in the Billboard charts. The albums spent 108 weeks in the charts and eventually sold over 20 million copies.
This beautiful RIAA custom award celebrates the sale of 3,000,000 copies.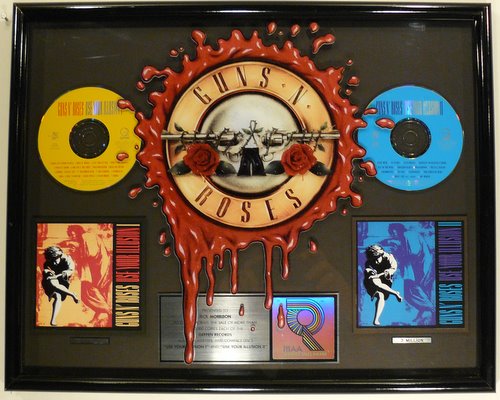 Rick Morrison has been involved in a lot of music. At this time I believe he was Executive Director of Geffen Records.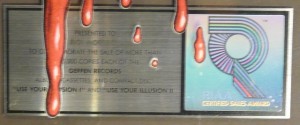 Backing and hanging is original with Fitzgerald Hartley sticker, and a wonderful inscription.