Join Honor Music Awards on Facebook. Receive free collector news and award stories by Email.  Submit pictures of your awards for spotlighting.
________________________________
 Some of you exercised to this record!
Some of you never knew people exercised to records!
Jane Fonda's "Workout Record", along with her first exercise video and best selling book, is considered one of the influences that started the fitness craze for baby boomers.  Certified gold by the RIAA on 9/21/82, it eventually sold over 2 million copies. The gold Strip-Plate that celebrates it here is the correct RIAA format from 1981 to 1985.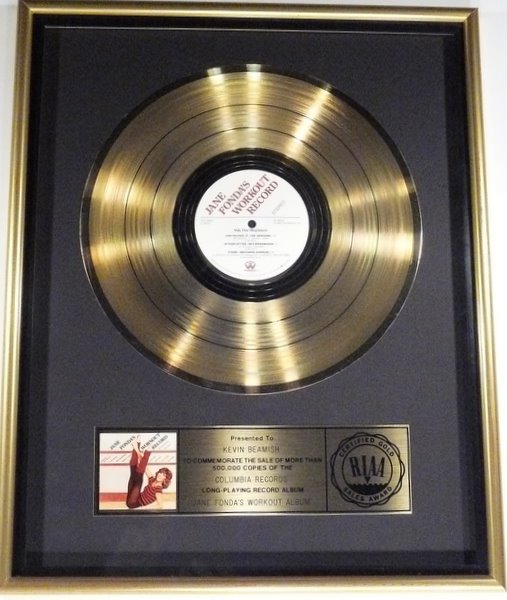 Are you ready to get a feel for it? Are you ready to sweat?  Begin here! (start around 1:18).
"… Let's go 1 – 2 – 3 – 4 –  … flat backs, bend your knees, swing through 5 – 6 – 7 – 8 –  Now grab your right ankle with your left hand and 1 – 2 – 3 – 4 –  "