John Travolta and Olivia Newton-John were huge in music, movies and celebrity…
Their star power generated this platinum Strip-Plate for the soundtrack "Two Of A Kind". Released in November of 1983, it went gold and platinum on January 16, 1984, and reached a peak pop chart position of #26.  The Strip-Plate is the correct format for RIAA awards from 1981 to 1985.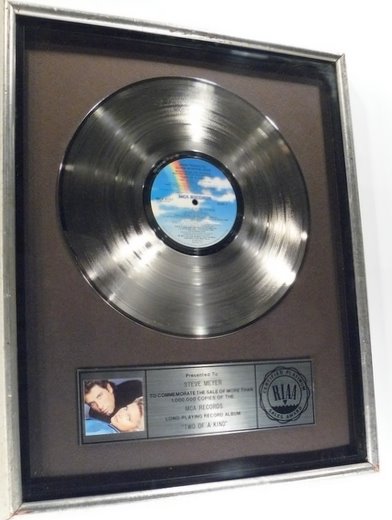 "Two of a Kind was the pop singer Newton-John's third attempt at a big budget film, which turned out to be an even bigger bomb than her previous film, Xanadu. This film also marked the start of a huge downturn in Travolta's film career, which would not rebound until 1994 with his starring role in Pulp Fiction. This film was the antithesis of Travolta's and Newton-John's previous film together, Grease, one of the biggest box office successes in film history." – Wikipedia

Steve Meyer served in executive capacities at both Capitol and MCA Records.  He is still active in the music business, publishing a new media newsletter 'DISC&Digital Audio Technology' to address the challenges of the music industry in the online digital world.  Two thousand subscribers, a who's who of the music business, receive it every Friday.