Here's an opportunity to celebrate The Kingston Trio, the biggest music group in the world, in 1959.  And while we're at it, also talk about RIAA PRESENTATION  TYPES.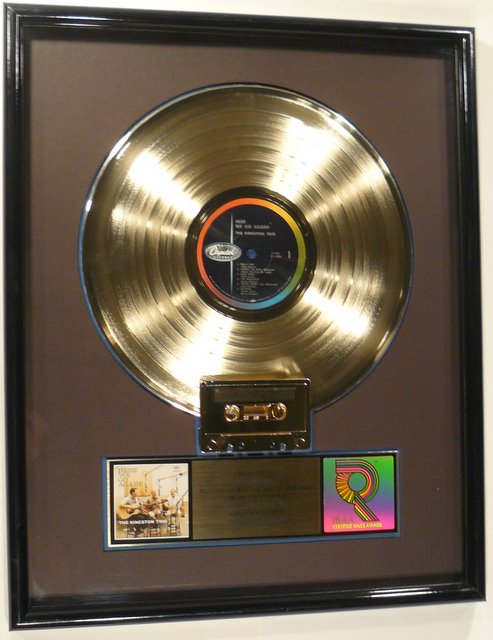 Over the years there have been different Authentic RIAA award formats. First Presentation awards were made in the RIAA format used in the year they were certified, and are given higher value by collectors.
Adding a twist, and the reason there are different Authentic formats for the same LP or 45, anyone who has been presented an award can order another one, in future years.  These awards from later periods would be made in the Authentic format of the year made, not in the format of the year of certification.
For example:
"Here We Go Again" was released in 10/59 and certified gold on 4/18/60 (reaching #1 on the charts).  If the above award was a First Presentation, with a format correct for the date of certification (1958-1964), it would be a Walnut Plaque with an RIAA coin logo.
A Second Presentation, ordered from 1964-1975, would have been a White Matte.  
 An award from 1975-1981, would be a Third Presentation and a Floater.
A Fourth Presentation, ordered from 1981-1985 would be a Strip-Plate.
A Fifth Presentation, ordered from 1985-1990, would be a Flower Hologram.
A Sixth Presentation, ordered between 1990 and 1997—and as seen here in this Kingston Trio award—would be an R Hologram.
It's possible you could see this award as a Seventh Presentation Bar Hologram, if it was called for after 1997.
First Presentations are accorded the highest value, but later presentations still have the value of authentic RIAA awards.
This particular R Hologram award was called for by Artie Mogull a long time music industry publisher, and label executive.  He is perhaps best known for signing Bob Dylan to his first publishing contract with Warner Bros.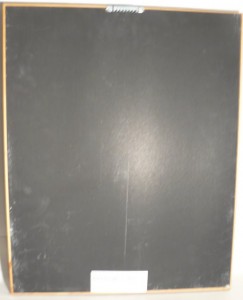 The award backing board and sticker are original. Fitzgerald Hartley was an RIAA licensed manufacture.

_____________________________________
Glad you stopped by Honor Music Awards, and hope you found the information and photos helpful. For more, sign up for our weekly Emails, and if you'd like to share stories and pictures of your awards, please submit them here.