Not all awards are RIAA awards. A considerable number are categorized as In-House because they were not made to format specifications under the auspices of the RIAA.
Labels, management and others involved in the success of a record could also have awards made in different formats for different reasons. These In-House awards might be delivered quicker, cost less, not call for an audit, better match office decor, or be created to any personal taste, unlike the strictly formatted RIAA awards. In general they are not valued by collectors as highly as RIAA awards, but they are another type of gold record that honored music.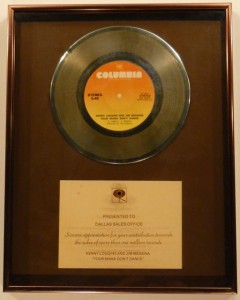 Loggins & Messina released "Your Mama Don't Dance" in October, 1972 from their second album. It was certified gold by the RIAA on March 7, 1973 and became their only certified gold 45.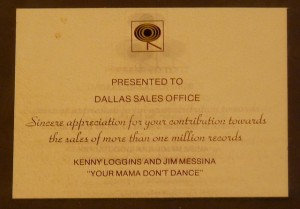 This In-House award, presented to the CBS Dallas Sales office, was probably hung in the office with other similar awards. On this particular award there is no plate but the presentation is silk screened on the glass front to create a shadow on the underlining parchment.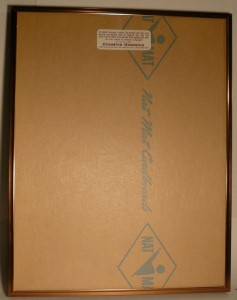 The back is not papered and contains a Creative Glassics sticker that instructs how to hang it.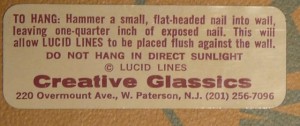 Creative Glassics later made RIAA awards beginning with the floater format in 1975.
Can any of you tell us when Creative Glassics moved from this address in W. Patterson to the Orange NJ address seen on its gold stickers on later RIAA awards?