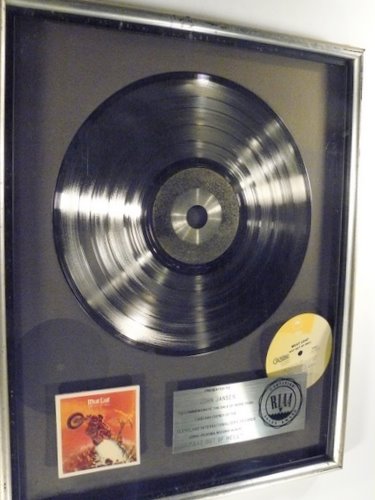 Bat Out Of Hell is the second album, and major-label debut, by Meat Loaf. It was released in October of 1977 and has sold over 40 million copies.
In the United States, it was RIAA certified gold (500,000 units sold) on 5/22/78, and platinum (1,000,00 units) on 8/28/78.
The RIAA platinum Floater you see here is:
First-Presentation – correct format for date of certification
Authentic -made by an RIAA approved award manufacturer
First-State – unopened (all original parts).
If you'd like, check out a gold Floater go here.
_____________________
John Jansen received this award for engineering and mixing. "After several attempts by several people, John Jansen mixed the version of Paradise that is on the album. According to Meat Loaf, he, Jansen and Steinman mixed the title track." -Wikipedia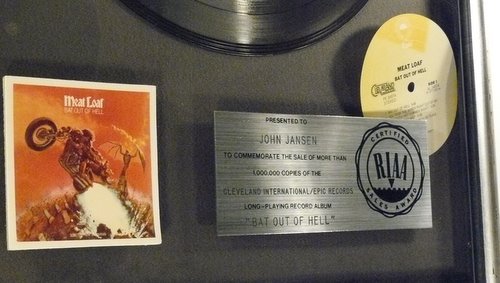 _____________________
The label has unstuck from the disc and caused some fading. If desired it could be restored using the correct, period, parts for the Floater format.
The backing paper and hanging are original, with a Creative Glassics sticker on the lower right.
Take a look at what makes awards original, authentic and valuable in the Awards Gallery to the right, and new each week in Award Stories by Email.