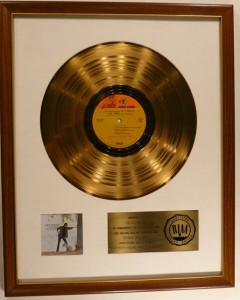 Neil Young "Everybody Knows This Is Nowhere"
Released: 5/69
Certified Gold: 10/16/70
Peak Chart Position: #34
Niel Young's second Reprise album introduced "Crazy Horse" as his back-up band. He had left Buffalo Springfield and joined Crosby, Stills and Nash with a continuing desire to pursue his individual musical goals. His evolution and creativity made him one of the foremost writers and performers of  rock and ballads from the late 60's onward.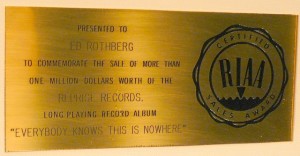 Not sure how Ed Rothberg participated in this record, but Ed (or anyone else who might know), please let us know.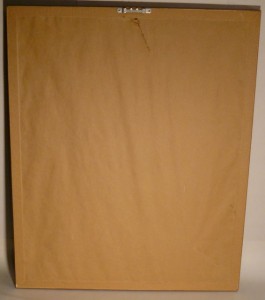 Backing paper and hanging has been changed from the original. Small nails can still be felt on the inner edges of the frame, which would have been the original way of attaching the matting to the frame.
Click on any photo to expand.