Gold and platinum awards have become vivid symbols of music's success.  Honor Music is about the hobby of collecting them.
______________________
The Coke jingle that became a #1 record.
I'd like to teach the world to sing (video)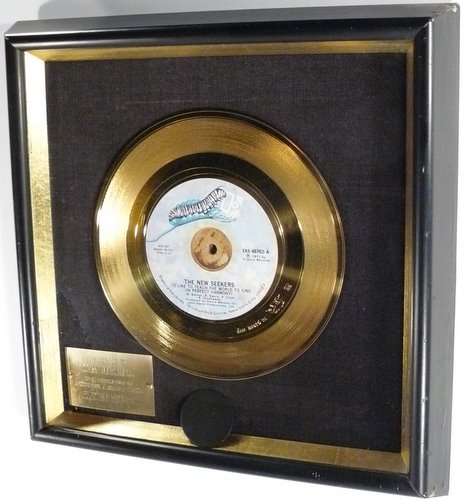 Towards the end of 1971, the New Seekers recorded an adaptation of the Coca-Cola jingle, "I'd Like to Buy the World a Coke", which had gained much interest. Reworked as "I'd Like to Teach the World to Sing", the song became a worldwide success. Released in November, 1971 and certified gold by the RIAA on 1/27/72, it reached a peak United States chart position of #7, though it was #1 in the UK and many other countries around the world.
Disc Award Ltd., who manufactured this gold single was the premier In-House award manufacturer of the time. The dragon etching at 4 o'clock on the trail off was their signature. An RIAA award at the time would have been a white matte. [click to continue…]