"Someone left the cake out in the rain/I don't think that I can take it/'Cause it took so long to bake it/And I'll never have that recipe again"
"MacArthur Park" was a symbolic and metaphorical song sung by actor Richard Harris and written by prolific song writer and singer Jimmy Webb.  Released in 1968, it peaked at #2 on the charts, though it was never certified by the RIAA. Here it is celebrated as an In-House gold 45 Disc Award Ltd. record award.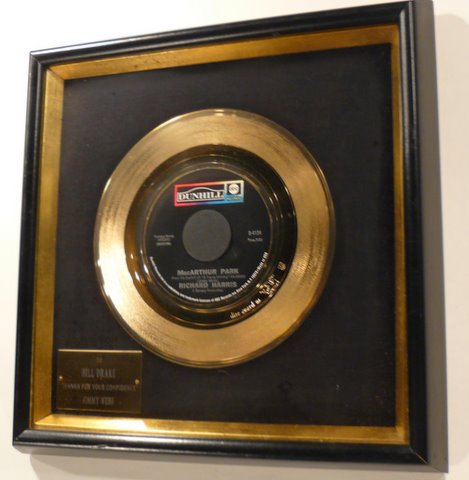 In-House record awards are authentic non-RIAA awards. Los Angeles based Disc Award Ltd. was the most popular In-House award of the period.
This award was presented to Bill Drake by Jimmy Webb who wrote the song. Bill Drake along with Gene Chenault developed highly influential radio programming strategies and tactics, most famously, Boss Radio.
Back is unopened with original masking tape and wire hanging that you see on all Disc Award Ltd. awards…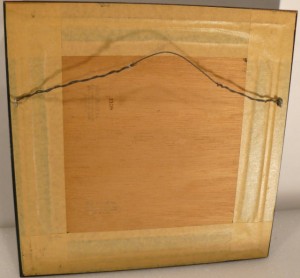 To evaluate the authenticness and condition of any award it's best to hold it in your hands, if that is not possible, photos of the front, plate and back are most useful.
_______________________
If you've received or collect awards (or simply love and celebrate music) take a look at the Awards Gallery to the right, and sign up for regular, free  Award Stories by Email.