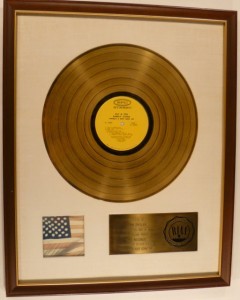 Sly And The Family Stone "There's a Riot Goin On"
Released: 10/71
Certified Gold: 11/8/71
Peak Chart Position: #1
Sylvester Stewart, known as Sly Stone, exploded from the San Francisco music scene in the late 60's. "He fused black rhythm and blues and psychedelic sensibilities into a new pop/soul/rock hybrid that drew both white and black audiences." – The Rolling Stone Encyclopedia of Rock & Roll (Revised and Updated for the 21st Century)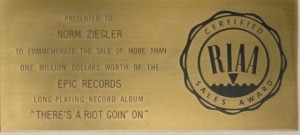 Norm Ziegler was the VP of Sales Southern Region CBS and Epic Records 1951 -1978.
The award has original backing paper, hanging and New York Frame & Picture Co sticker. His inscription on the back about meeting Sly for the first time and the last time he saw him, says a lot about the genius, force and mystery that was Sly.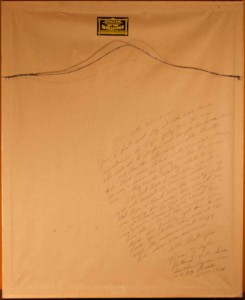 Jim, I first met Sly at the Epic Records Convention in Las Vegas July 1967. He was the last act to perform and brought the house down … and then the hits came one after another. The black radio stations broke him first, because he was a former disc jockey in San Francisco area … they could totally relate to him.
The last time I saw him was at a sold out concert in 1970 in Dallas … by that time I think even the country folks were buying his records. We almost had a riot because the fans were really in an ugly mood, because he was almost two hours late. … he and the audience were stoned. We finally got him to his limo. He started slow and at the end, the audience went crazy. The show was awesome!
All the best Jim!
Norm Ziegler
Retired VP Sales, Southern Region – Epic and CBS Records, 1951-1978