Cream "Disraeli Gears"
Released: 12/67
Certified Gold: 5/22/68
Peak Chart Position: #4
Cream was Clapton, Baker and Bruce. A super group of premier side-men, superior musicians and instrumental brilliance. Atlantic signed them as soon as they became a group. "Disraeli Gears" produced their only gold 45 "Sunshine Of Your Love" in September of 1968. The white matte is the hand-cut Bainbridge board that was used by award manufacturer New York Frame & Picture CO. during this period.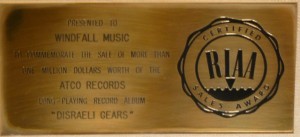 Windfall Music was their management company.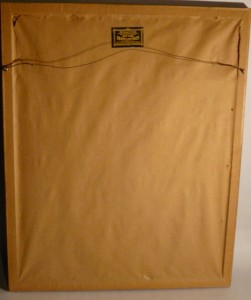 The backing paper, sticker and hanging is completely original. The small nails whose heads have broken through the paper are the way the matting was secured to the frame.
___________________________
If you've received awards from the 60′s, 70′s and 80′s, and it's time to do something with them, give me a call at (818) 416-3770. I'd love to talk with you.