Cream "Disraeli Gears"
Released: 12/67
Certified Gold: 5/22/68
Peak Chart Position: #4
Cream was Clapton, Baker and Bruce. A super group of of premier side-men, superior musicians and instrumental brilliance. Atlantic signed them as soon as they became a group. "Disraeli Gears" produced their only gold 45 "Sunshine Of Your Love" in September of 1968.
The white matte is the hand-cut Bainbridge board, used in this period of awards.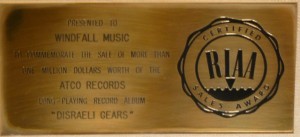 Windfall Music was their management company led by Bud Prager.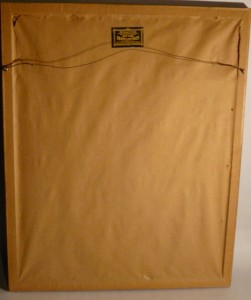 The back paper, sticker and hanging is completely original. The small nails (heads have broken through the brown paper on the sides) are the way the matting was secured to the frame.
Click any photo to expand.