The most recent RIAA logo is the Bar Hologram, used from 1997 to present day.  The award format, like other hologram formats (Flower and R) can be customized in anyway the label desires.
The RIAA logo for the first time also includes a number, so the origin of the award and who it was presented to is trackable (I've never tracked an award but I am told this is true).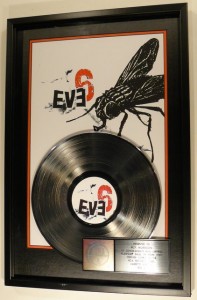 This self titled album from Eve 6 was released on April 28, 1998. It topped the Heat Seekers new album   chart and eventually peaked on the Billboard charts at # 33. The single "Inside Out" was supported by MTV and reached # 1 on the Modern Rock charts. – Wikipedia
Awards of the hologram period don't have the tight format restrictions of the earlier RIAA awards. Custom formats and graphics let the creativity of the artist, label or management honor the album in any way they thought best. Sometimes with spectacular results…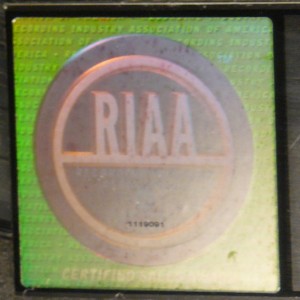 The  RIAA Bar Hologram logo has a bar under it, hence the name Bar Hologram.
At the inside bottom of the circle you can see the tracking number (click to expand).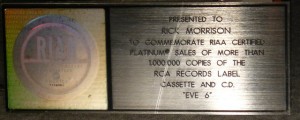 This award was presented to Rick Morrison.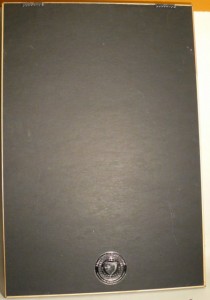 Simple black paper board, glued to the frame, provided the backing for the award.
The size of the award called for double hangings at the top.
The round  sticker below, states Ill Eagle Enterprises LTD. are … "Designers & Manufacturers of Progressive Music Awards … Under licences from the RIAA".