If you received awards in the 60′s – 70′s – or 80′s, congratulations!  If you would like to spotlight and share their stories with other collectors (free), or maybe a few of them have wound up in the closet or garage and you've thought about selling them, please contact me at (818) 416-3770 or jim@honormusicawards.com. I look forward to talking with you.
______________________________
In-A-Gadda-Da-Vida, the second studio album by the American rock band Iron Butterfly, was released in June of 1968 and certified RIAA gold on 12/3/1968.  It's title track, which occupies the whole of Side B became a classic and led to the album reaching #4 on the Billboard charts, and being in the Top 10 for over a year. See an early live performance here.  This RIAA White Matte is an Authentic, First Presentation…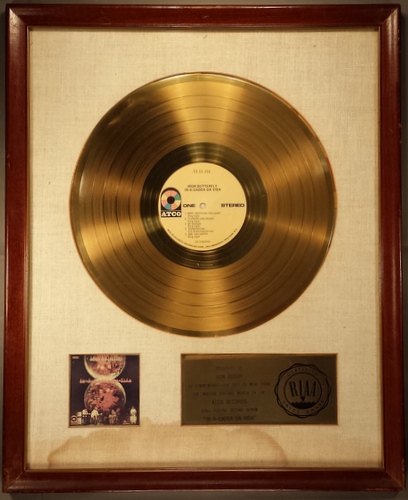 Our spotlight awards today were presented to, and come from the personal collection of Ron Bushy, the drummer of Iron Butterfly and the only member of the group to appear on all six of their studio albums. His lengthy drum solo in In-A-Gadda-Da-Vida, with its primal drum patterns, set the standard for generations of rock drummers.
Thanks to Ron for sharing these awards with us.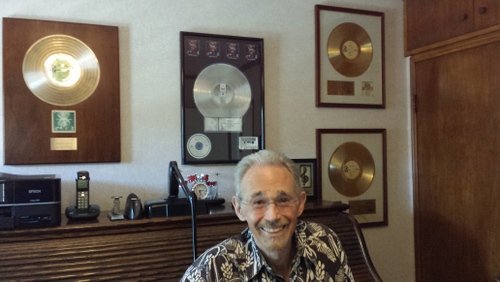 In-A-Gadda-Da-Vida was given the distinction of being the first album to be awarded platinum status. The In-House platinum award you'll see next was the first of it's kind. Called for by legendary Atlantic President Ahmet Ertegun, it celebrates the great sales success that was the first inkling of the explosion coming in record sales. (It was also Atlantic Records' biggest selling album until it was surpassed by Led Zeppelin IV -Wikipedia)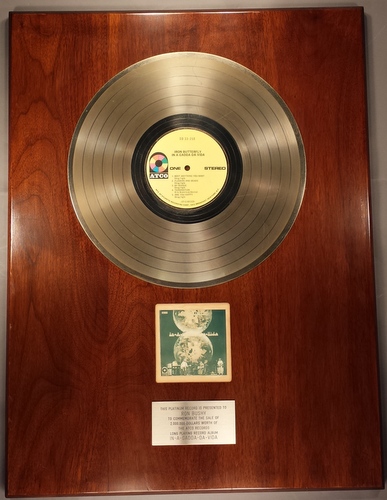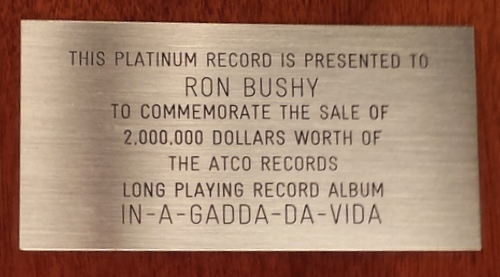 Notice on this first platinum award (from late 1969 or 1970) the presentation plate says "to commemorate the sale of 2,000,000 DOLLARS worth of" not the 1,000,000 COPIES that became the requirement for RIAA platinum when they were first officially recognized in 1976.
Today In-A-Gadda-Da-Vida is a 4x platinum album certified by the RIAA on January 26, 1993 (with sales of over 30 million copies worldwide).  It is celebrated here with an RIAA R Hologram, the correct format for the period (1989-!997).