Lou Rawls, after decades signing with the likes of Curtis Mayfield and Sam Cooke, had his most successful single in 1976, "You'll Never Find Another Love Like Mine". Certified RIAA Gold on 8/1/76, and becoming Rawls' only certified million-selling single, it topped the R&B and Adult Contemporary charts, and went to #2 on the Billboard Pop Charts. Here you see it celebrated with an In-House Gold 45…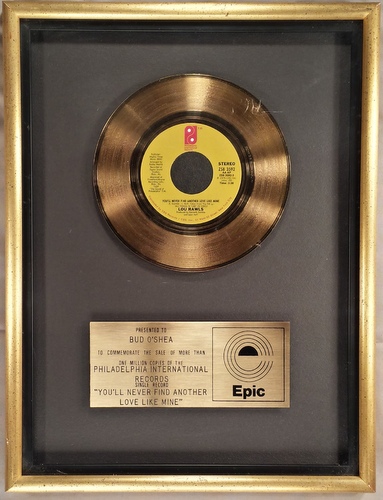 Though RIAA became the standard of gold record presentations, other awards, by other manufactures, could be ordered by record companies. These awards, when made at the request of the record or management company, were collectively called In-House awards. Here's a Fleetwood Mac example.
They are all authentic; simply not RIAA awards, and historically they have not been as valuable as the RIAA presentations. Labels chose them as an alternative to RIAA awards because they could get them through various sources, they cost less, and the labels didn't have to audit actual sales figures for the RIAA.
Original backing paper and hanging, with the sticker of RIAA awards manufacturer, Creative Glassics.
 _____________________________
What part in music's life have you played? If you received awards in the 60′s – 70′s – or 80′s, and would like to spotlight their pictures and stories, or  find a new home for them, please contact me, Jim, at (818) 416-3770 orjim@honormusicawards.com