Music From Big Pink is the debut studio album by The Band. Released in 1968, it employs a distinctive blend of country, rock, folk, classical, R&B, and soul. The music was composed partly in "Big Pink", a house shared by Rick Danko, Richard Manuel and Garth Hudson in West Saugerties, New York. The album itself was recorded in studios in New York and Los Angeles in 1968, and followed the band's backing of Bob Dylan on his 1966 tour (as the Hawks) and time spent together in upstate New York recording material that was officially released in 1975 as The Basement Tapes, also with Dylan. The cover artwork is a painting by Dylan. Here you see it honored with an Authentic, First-State, Fifth Presentation (First Presentation would be a White Matte), Gold RIAA R Hologram LP/cass award…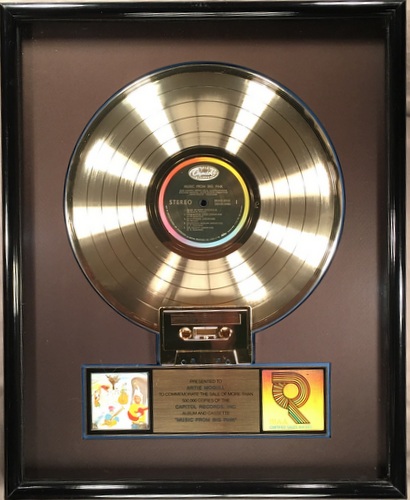 This award arrived with a condition issue, the frame had separated at the bottom. It was easily fixed as you can see below, keeping all original parts.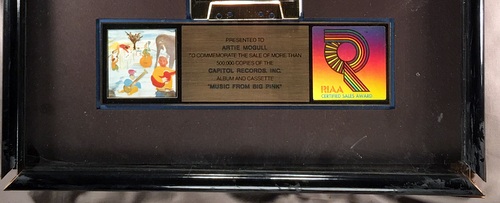 ___________________________
Please contact me if you have any questions, or been thinking of selling some awards. I'm buying, and all awards are considered. Thanks!
Jim Greenwood
Email: jim@honormusicawards.com
Phone or Text: (818) 416 – 3770