Types of Awards
This is one of the most viewed pages on Honor Music Awards, describing the periods and look of RIAA awards from their inception in 1958 to current day. It's long, but pretty thorough, and if you're interested, or just getting interested, in collecting awards I hope you find it informative. Please contact me with questions or if you have anything to add. So without further delay…
In the last sixty years, in countries around the world, record awards have been presented in a variety of formats—or types—to celebrate music's success. Knowing these types is valuable in building a focused collection, and in separating authentic awards from display, souvenir, and "fakes".
RIAA AWARDS
In the United States, the Recording Industry Association of America (RIAA) began in 1952 as a trade organization for the major music companies. In 1958 they began their gold record program to create a standard to measure sales of sound recordings. On March 14, 1958, the RIAA's first gold 45 was presented to Perry Como's "Catch A Falling Star", and four months later, on July 8, 1958, the first gold LP was awarded to the soundtrack of Oklahoma!
Over the years RIAA awards have become the most valuable and collectible. From the beginning they had consistent formats which included a specific type of frame, RIAA logo, presentation plate, manufacturer sticker, matting  and construction. Seeing these components help establish an award's actual date of issue.
RIAA Types of Presentation
First Presentation — Award correct in parts and format for the date of RIAA certification. You would expect an award manufactured in 1974, to have the 1974 label, components, and construction typical of the period.
Second, Third, Fourth, etc. Presentations — Awards for the same album, in a later, and therefor different RIAA format (not that of the original date of certification). Example
RIAA States of Condition
First-State – Awards that are completely original including backing paper (which may be torn).
Second-State  — Awards whose backing paper, backing board attachments, and or hangings have been changed, but the front visible components (the disc, etc., mini, label, presentation plate, and matte) are original.
Third-State — Awards that have been changed or repaired, with parts or format not correct for date of certification.
Restored Awards – Those that have been brought to First-State condition using components original to the time of certification.
RIAA Format Summary (details below)
Walnut Plaques:  1958-1964
White Mattes:  1964-1975
Floaters:  1975-1981
Strip-Plates:  1981-1985
Flower Holograms: 1985-1989
R Holograms:  1989-1997
Bar Holograms:  1997-current
___________________________________
From 1958 to 1964 "Walnut Plaques" were the format. With gold discs and a separate RIAA medallion (coin), very few were made for each presentation, and they remain rare.
Walnut Plaque w/Medallion/Coin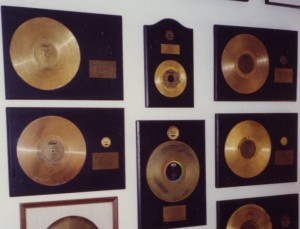 _________________________________________________________________
From 1964 to 1975  "White Mattes" were the RIAA format.  The award had a white matte with a walnut wooden frame. Prior to 1967 they had hand cut mattes (Bainbridge #14 board) and in 1967 they changed to die cut mattes (Miller board). The matte was cut to expose a gold disc, and below it a presentation plate and a mini (on LP awards) of the album cover.
White Matte 45's…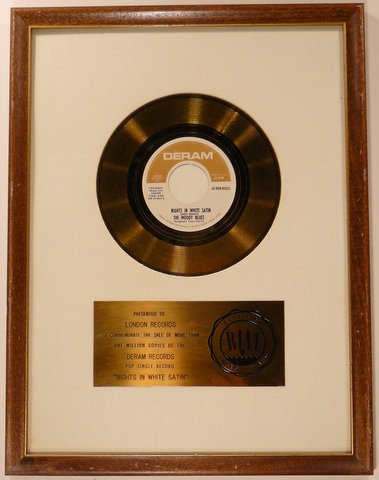 These White Matte 45's were presented to commemorate the sale of more than one million copies of…

 White Matte LP's…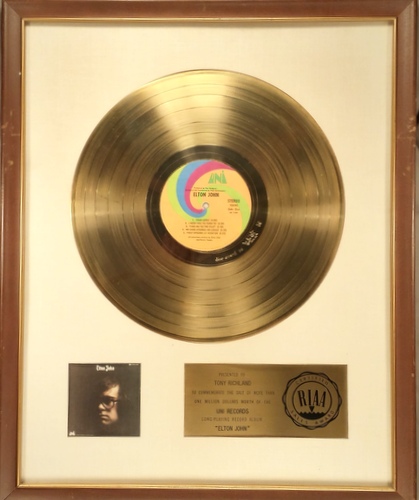 These White Matte LP's were presented to commemorate the sale of more than one million dollars worth of…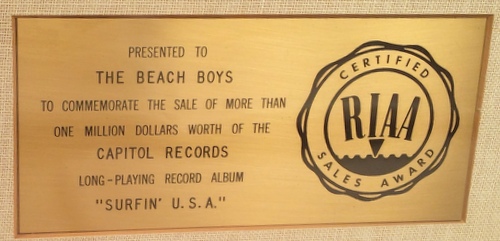 LP White Matte's all had brown paper backing  (often seen torn or taped) and wire hangings…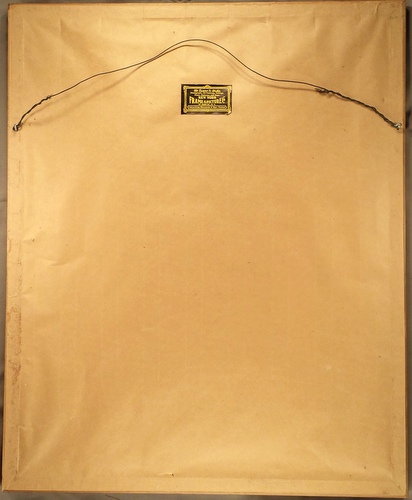 For approximately six months, February to August 1969, the mini of the album cover the mini of the album cover was reversed to the right.
Reverse White Matte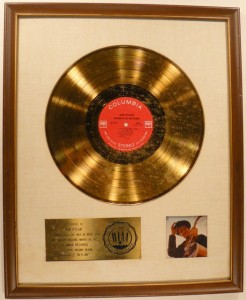 White Mattes had brown Kraft paper backing, wire hangings and were made exclusively by New York Frame & Picture Co.  Their sticker was on the backing paper centered a few inches from the top. In many cases the sticker has fallen off and you just see the outline of where it was. Presentation plates had acid etched RIAA seals (not silk screened) during the white matte era, and the record labels were printed (not photocopied).
Prior to 1969 New York Frame & Picture Co. was on Fulton Street, and after 1969 they were on John Street.
New York Frame & Picture Co. address prior to 1969
New York Frame & Picture Co. address beginning 1969
White mattes had small nails that held the matte to frame. If you see clips, tacks or other fasteners, the award has been changed. Not necessarily bad by itself, but it shows the award no longer has all original components.
All White Matte award plates are 3 1/8 X 7 inches and the album mini is 3 1/8 inches square.
Total white matte presentations are thought to have been between 5-25 awards for each certification. They were first given to groups and artists and eventually to others involved in creating the music (studio musicians, producers,  engineers, etc.) and key label executives.
________________________________________________________________
From 1975  to 1981 "Floaters" were the RIAA format, including the beginning of platinum awards. (There were no platinum white mattes.)
The Floater was distinguished by having  a gold or platinum painted wood frame, a black matte on which the disc, presentation plate and mini (on LP's) was mounted to appear to float off the matte (hence the name).
Gold Floater 45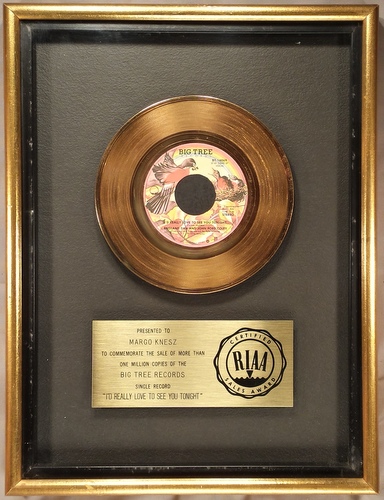 Gold Floater LP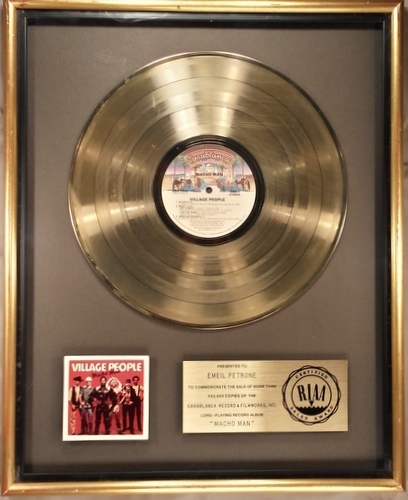 The first platinum LP Floater award was for The Eagles' "Greatest Hits 1971-1975" certified on February 24, 1976. Johnny Taylor's "Disco Lady" was the first platinum 45, certified on March 11, 1976. They had "platinum" frames, discs, and plates.
Platinum LP Floater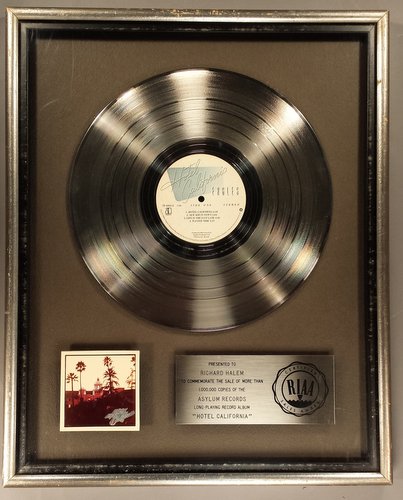 Floater backing paper and top hanging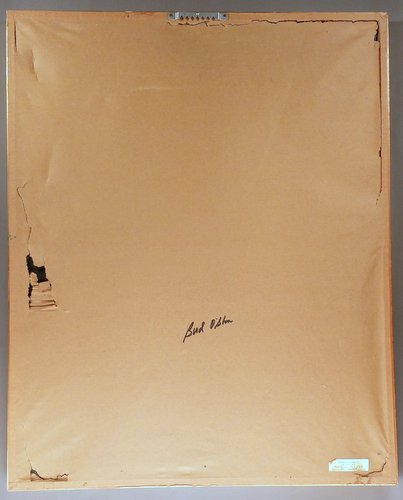 In 1976 Creative Glassics began manufacturing RIAA awards in addition to New York Frame & Picture Co. Creative Glassics stickers were usually at the bottom right or left corner

New York Frame & Picture Co. stickers were in the upper middle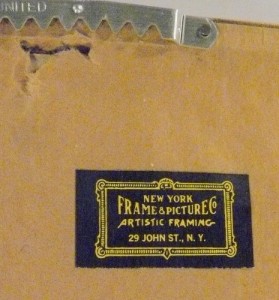 In the Floater period presentations increased to between 25-50, with awards being given not only artists, label execs and others involved in the creative, but also to radio stations, management, agents, and key figures in distribution and promotion.
________________________________________________________________
From 1981 to 1985 "Strip-Plates" were the format of RIAA awards.
They were like a floater (having  gold or platinum painted wood frame, a black matte and disc in the upper half) except that the mini and presentation plate were combined on a single strip below the LP disc. (hence the name strip-plate).
Platinum LP Strip-Plate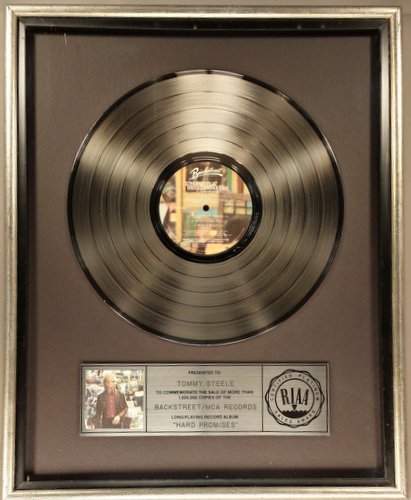 Gold LP Strip-Plate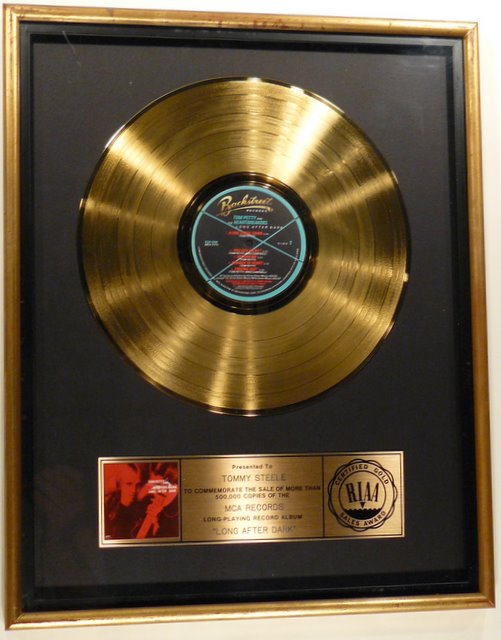 45 Strip-Plate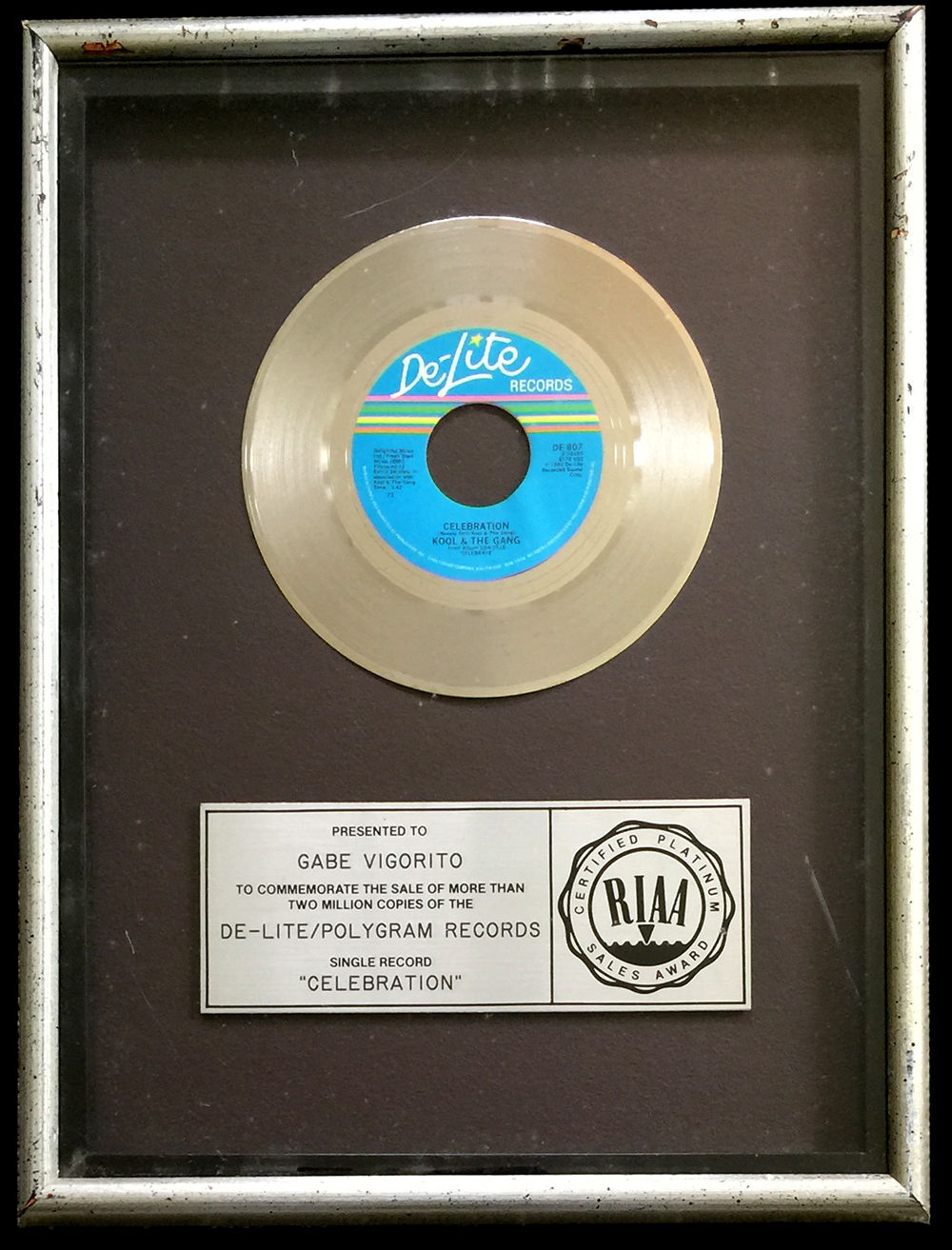 45 "Strip-Plate" Type 2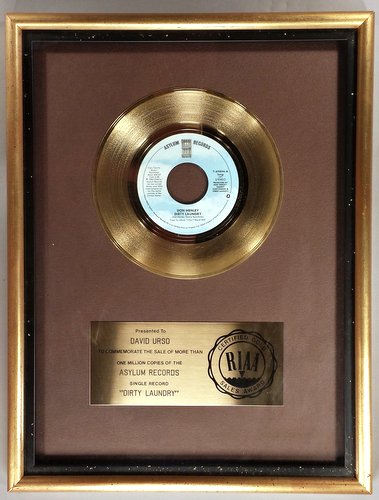 The first 45 award above looks like a Strip-Plate, with the strip between the RIAA logo and the presentation. The 45 "Strip-Plate" Type 2 on first glance looks more like a floater (there is no strip on the plate). But on closer inspection, you can see that the plate and disc rest directly on the matte, and based on the dates of certification in the Strip-Plate period, I call them "Strip-Plate" Type 2 to distinguish them from the 45 Floaters of the earlier period.
As music sales increased these awards were presented to an even broader group which could include family & friends, retailers, wholesale distributors, graphic artists, etc. 50 to a 75 awards might be made, with some titles and artists having even more.
___________________________________________________________
In 1985 the RIAA Hologram Formats Began
After 1985 the tight formats of the White Matte, Floater and Strip-Plate gave way to the RIAA hologram logo era. Formats and standards of presentation loosened and could now include, or simply be, cassettes, CD's, custom graphics and plates. Unique designs in size, shape, mattes, use of images and placement of the RIAA logo emerged.
Gold, platinum and multi-platinum awards (2X, 3X …10X, etc.), created more formats and more opportunities to honor the music. Presentations of hundreds of awards, became more common, not only now to the people who made and sold the music, but each level of certification could be celebrated as well (individual awards for Gold, Platinum, 2X, 3X …10X, etc.).
_____________________________________________________________
From 1985 to1989 RIAA logos were Flower Holograms.
Platinum Flower Hologram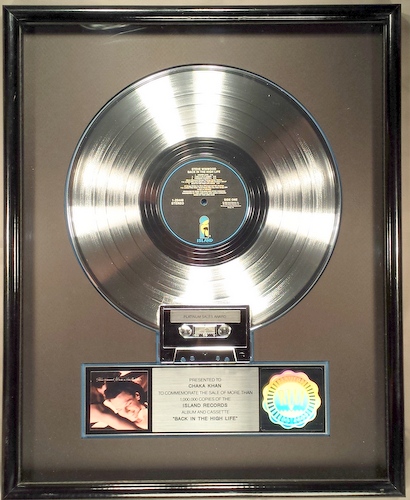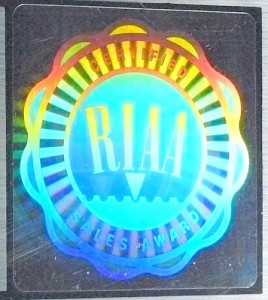 Gold Flower Hologram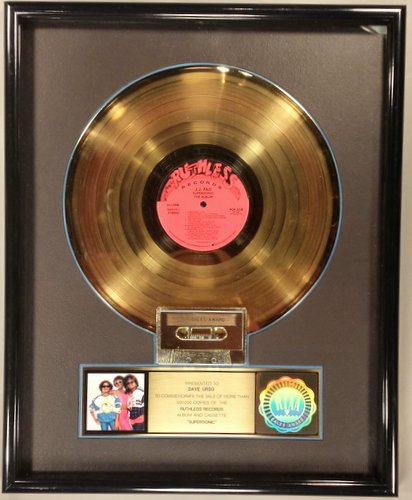 Multi Platinum Flower Hologram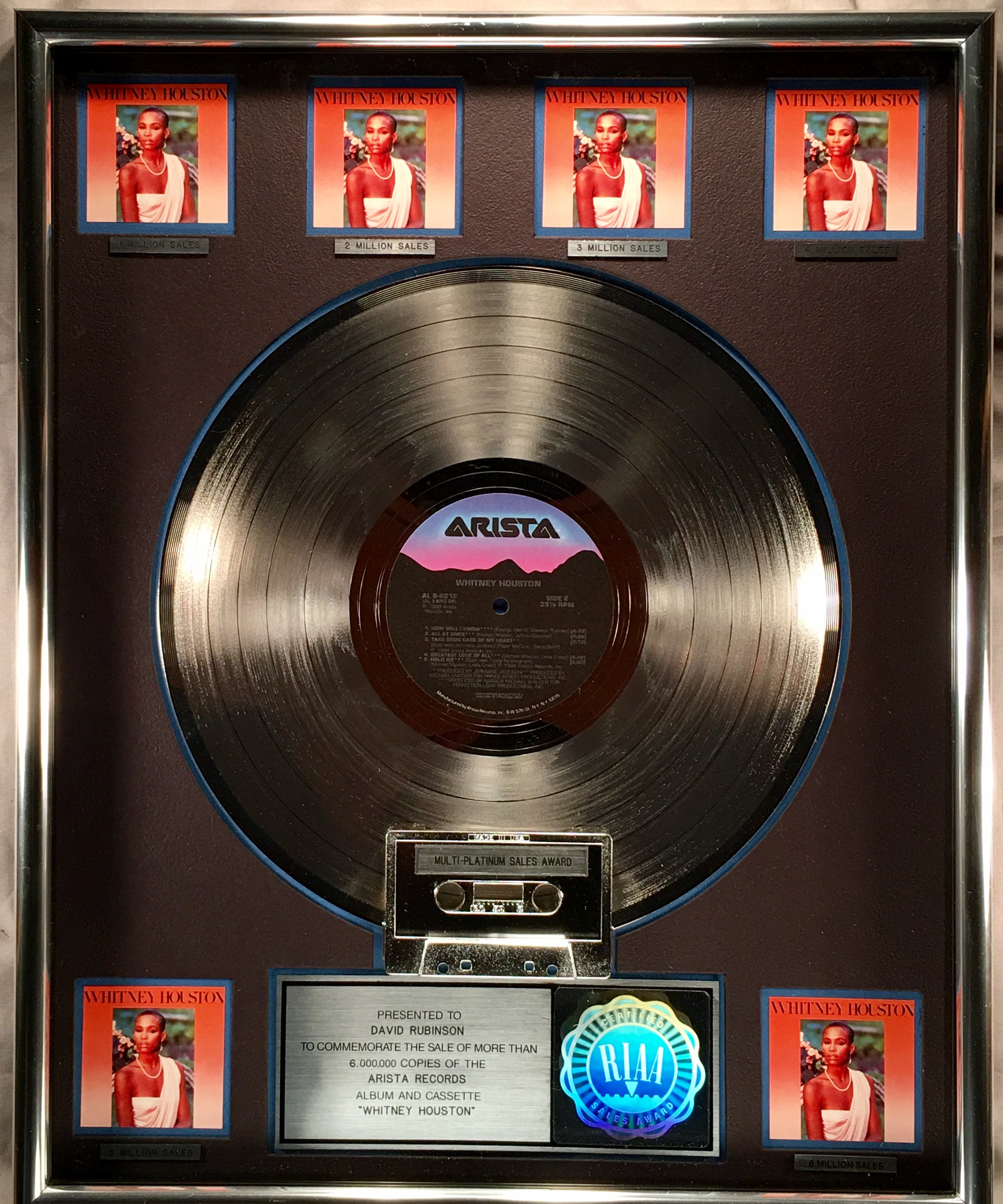 ________________________________________________________________
From 1989 until 1997 RIAA logos were R Holograms.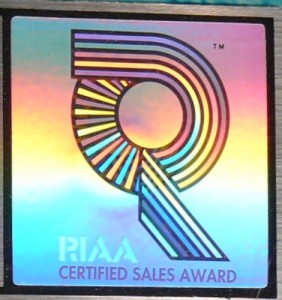 The following two R Holograms are typical of the ways RIAA awards began to reflect different formats and standards of presentation, which could now include multiple records, cassettes, CD's, and custom graphics.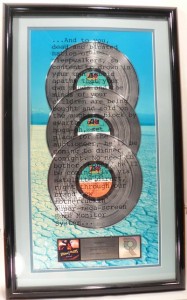 _____________________________________________________________
From 1997 to the present Bar Holograms (which were now numbered) have been the RIAA logo.
________________________________________________________________
IN-HOUSE AWARDS (Non RIAA Awards)
Though RIAA became the standard of gold record presentations, other awards, by other manufactures could be ordered by record companies. These awards, when made at the request of the record company, were collectively called In-House awards.
They are all authentic; simply not RIAA awards, and historically they have not been as valuable as the RIAA presentations. Labels chose them as an alternative to RIAA awards because they could get them through various sources, they cost less, and the labels didn't have to audit actual sales figures for the RIAA.
It's said that Motown famously didn't submit their figures to the RIAA for many years to keep their books from being audited. I don't know if this is true, but artists like Stevie Wonder, Marvin Gaye and other Motown stars simply didn't receive RIAA awards for their early work.
______________________________________________________________
DISC AWARDS
The most prolific, consistent and valuable of these in-house awards was the Disc Award Ltd., manufactured in Los Angeles from the late 50's to the late 70's. All authentic Disc Awards have square black frames (both LP and 45) and a disc with a dragon etched into the trail off at 4 o'clock. If they came with a presentation plate (and not all of them did) it was usually in the lower left hand corner.
LP Disc Award Ltd. award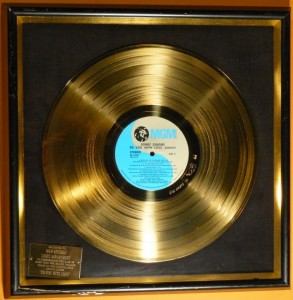 45 Disc Award Ltd. award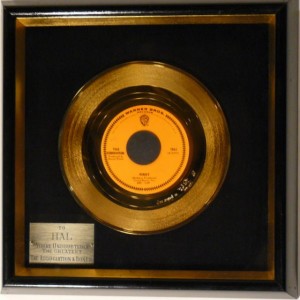 All Disc Awards Ltd. discs had a "Dragon" at approximately 4 o'clock on trail off.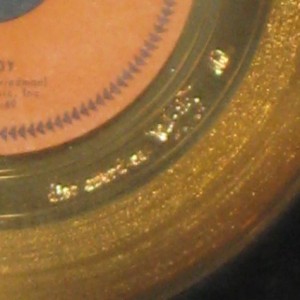 ________________________________________________________________
FOREIGN AWARDS
In addition to awards from the United States, gold or platinum records were presented for achieving sales goals in many different countries (list of global music recording certifications). The quantities that needed to be sold to achieve certification vary by country as do the construction, look and feel of the award itself. Here we focus on US awards, but from time to time we'll share some from around the world.
British BPI Gold LP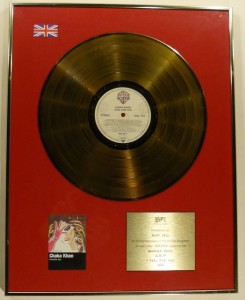 Japanese Platinum LP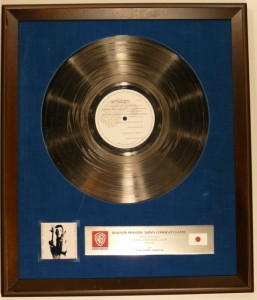 Canadian CRIA Gold LP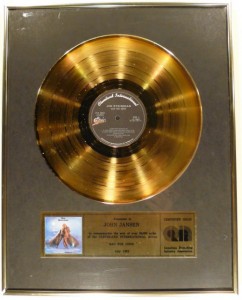 German BVMI Platinum LP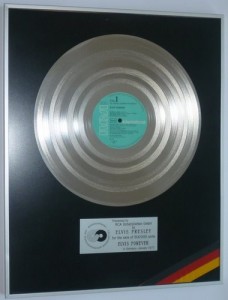 ______________________________________________________________
DECORATIVE/SOUVENIR AWARDS
There is a category of awards that you may see in gift shops, online auctions and in TV shows and movies. These awards are for decoration and/or created for the retail public.
They are not fakes, but they are also not authentic (made at the request of the record label or management). They are made to be sold as souvenirs and as such may provide a memory value, but have little collector value.
_______________________________________________________________
A BRIEF HISTORY
According to the preface for the book  Million Selling Records from the 1900s to the 1980s by Joseph Murrells "The exact point in time when a golden disc was first given by a company to an artist has not been established with certainty. The germ of the idea, we think, started in 1905 when the Gramophone Company of Britain presented a bracelet to Marie Hall who was the first women violinist to become a popular recording artist. The presentation charm bracelet was made of gold and pearls and displayed a minute violin, a tapered gramophone arm and seven tiny golden discs representing her seven best selling records."
"The first actual gold disc awarded to an artist is believed to have been given to the Glenn Miller orchestra on February 10, 1942, over the Chesterfield Radio Broadcast." Celebrating sales of over 1,200,000 copies of "Chattanooga Choo Choo". Another example of a record company award is the gold record awarded to Elvis Presley in 1956 for 1,000,000 sales of the single "Don't Be Cruel." The first gold record for an LP was awarded by RCA to Harry Belafonte in 1957 for the album Calypso (1956), the first album to sell over 1,000,000 copies."
Into this early world of record company celebrations and presentations came the Recording Industry Association of America (RIAA), which was started as a trade organization for the major music companies in 1952. In 1958 they began their gold record program to create a standard by which to measure sales of a sound recordings. On March 14, 1958, the RIAA's first gold 45 was presented to Perry Como's "Catch A Falling Star" on RCA. Four months later, on July 8, 1958, the first gold LP was awarded to the soundtrack of Oklahoma! on Capitol Records.
______________________
Submit pictures of your awards for spotlighting.  Join Honor Music Awards on Facebook.  Receive free collector news and award stories by Email.