In the late 60's and early 70's The 5th Dimension's "champagne soul" music was everywhere. Their #1 single, Wedding Bell Blues (written by the incredibly talented Laura Nyro) was released in September of 1969, and certified RIAA Gold to commemorate the sale of one million copies, on 12/5/69.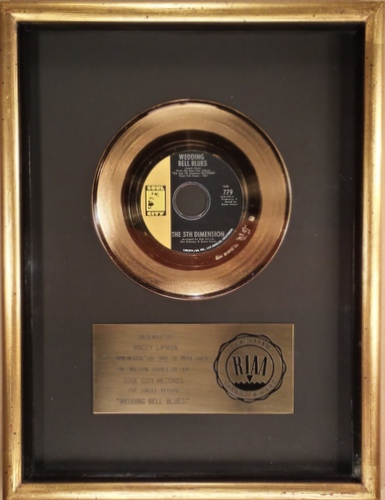 Here you see it honored with an Authentic, Second-State, and what looks like Second Presentation award. A First-State, First Presentation award would be a "White Matte", the RIAA format from 1964-1975, with wood frame and white linen matte. I think this started as a "White Matte" because the plate, disc, and label come from that period (the Soul City label was only used from 1967-1971 according to The Record Label Guide by Joe Lindsay). Here it looks like a Second Presentation "Floater", the RIAA format from 1975 to 1981, with black matte and gold frame. I believe this particular award was changed to its current State because a black matte was preferred for display. Back in the day that didn't matter, but today, to collectors, it decreases the value of the award.
There is a growing school of thought, that partly due to the scarcity of Authentic First-State awards it's better to leave awards in their original or First-State condition regardless of appearance. That said, while I do see the value in restoring damaged awards, I believe that photographing awards in their found condition before they are changed, adds to the provenance and confirms their First-State – Repaired status.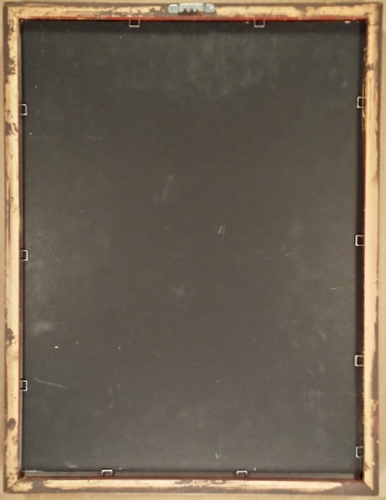 _______________________________
If you received awards in the 60′s – 70′s – or 80′s, and would like to spotlight their pictures and stories, or  find a new home for them, please contact me, Jim, at (818) 416-3770 or jim@honormusicawards.com