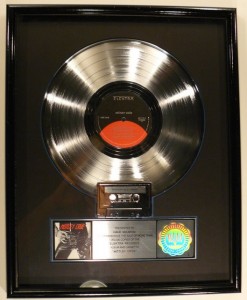 Motley Crue "To Fast For Love"
Released: 8/82
Certified: Gold 9/27/84 & Platinum 7/27/87
Peak Chart Position: #77
The first Motley Crue album was self produced and released on Leathur Records in November 1981. They were signed to Electra Records in 1982 and this re-mixed album,  re-released on August 20, 1982.
Members Nikki Sixx, Tommy Lee, Mick Mars and Vince Neil pushed limits onstage and off. Craziness and four multi-platinum albums were the result.

Hale Milgrim,  has shared his love and vision of music as an executive at Warner Bros. Records, Electra/Asylum and as president of Capitol Records.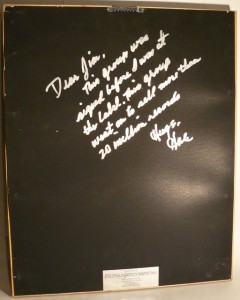 Original black board backing, hanging and Fitzgerald/Hartley sticker.