The Righteous Brothers were the musical duo of Bill Medley and Bobby Hatfield. They had their biggest success in the mid sixties and continued to perform until Hatfield's death in 2003, with their sound coming to be know as "blue eyed soul." Here we spotlight two of their biggest hits, and two different formats of gold records, thanks to Christopher Chatman who has been buying, selling and watching record awards for over thirty years. This is a longer post than usual with 1437 words! Thanks Christopher for your pictures and stories.
–The Righteous Brothers' "You've Lost That Lovin' Feelin'" was released in December of 1964, and is considered to be one of, if not the most iconic pop record in music history. In 1965 it was a number one single in both the United States and the UK. It even went to number #2 in the Billboard Rhythm and Blues Chart! Broadcast Music Inc. (BMI), the United States organization that manages the performing rights of published songs, announced in 1999 that "You've Lost That Lovin' Feelin" was "Song of the Century" for receiving more radio and television airplay than any other song during the 20th century. That means it was played more than any other song by The Beatles, Elvis Presley, Madonna, or The Rolling Stones. It was ranked by Rolling Stone Magazine at #34 on the list of the "500 Greatest Songs of All Time."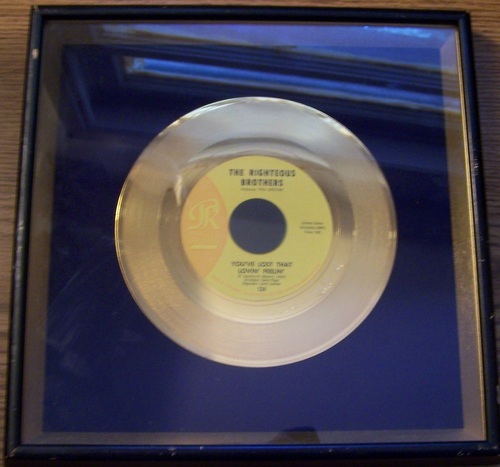 The Disc Award Ltd. gold record pictured here was discovered as part of the Bobby Hatfield Righteous Brothers Awards Collection and is in excellent condition. The yellow and red colors of the Philles 45 label is slightly faded as one would expect from an award being almost 50 years old. What is strikingly unusual about this award, compared to other "Disc Awards", is that this award has a dark blue background. Most, if not all, previously discovered awards made by the Disc Awards Ltd. company have a solid black background. This is the only Disc Award that I've seen that has this dark blue background. The color may have been specifically requested by Hatfield himself. The disc has the typical "Disc Award" engraving in the dead wax along with the "dragon" logo. The back has the typical wood and masking tape backing with a very faded address for the Disc Award company which is also typical.
This gold record award that was presented to Bobby Hatfield in 1965 by the head of Philles Records (the infamous Phil Spector) is one of the rarest and most prestigious record sales awards ever presented to anyone in music history.  There are several reasons for this. For one thing, Philles Records president Phil Spector didn't hand out gold record awards very often. All you have to do to substantiate this is to try to find an original gold record that was given to anyone by Phil Spector. In spite of the thousands of both RIAA and In-House record awards that have been handed out to groups and individuals over the years by all of the record companies, the number of original Philles gold records that have been discovered has been minuscule. In 30 years of buying, selling and watching the market of record awards, I have seen less than 10 Philles Records gold record awards enter the collectors market. It is rare to even find a photograph from the 1960s of a Philles Records recording artist actually receiving a gold record. The simple truth is that the president of Philles Records, Phil Spector was not known for being particularly generous or magnanimous with his recording artists. For whatever reasons, Philles Records gold record awards are extremely rare.
It is also important to note here that during its existence in the 1960s Philles Records was not a member of the RIAA (Record Industry Association of America). Consequently, there is no such thing as an RIAA Philles gold record award. All Philles Records gold records that have been discovered so far have been constructed by the same "Disc Awards Ltd." company from Los Angeles, California.
Disc Awards Ltd. manufactured high quality gold record awards from the late 1950s to the late 1970s. Gold record awards from this specific company are commonly referred to as "Disc Awards" and known for being of unusually high quality and for having the words "disc award Ltd" etched in the dead wax of the gold disc at the four o clock position along with a picture of a dragon.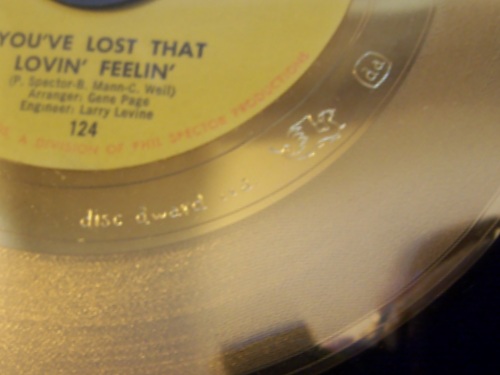 There has been to my knowledge only one other Disc Award discovered for "You've Lost That Lovin Feelin", and that was in the collection of Shirley Spector, Phil Spector's sister. That award had a small gold plate inside of it on which was engraved the words: "TO BILL – With Appreciation PHIL SPECTOR." The award without the small gold plate is actually more attractive and it is possible that both Righteous Brothers opted for awards without the dedication plate.
It is possible that there may be other "Disc Awards" for the "You've Lost That Lovin' Feelin" in existence and not owned by the original recipient. It is highly likely that Bill Medley still has his personal award, but considering the other awards that were found in the storage unit along with this award that were clearly designated for Bobby Hatfield, (including a 1960s RIAA White Matte award designated to Bobby Hatfield for "Soul and Inspiration") it is more than likely that this Disc Award for "You've Lost That Lovin' Feelin" originally was presented to Bobby Hatfield.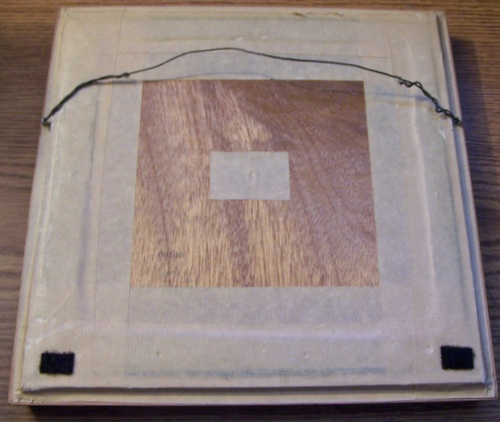 –The Righteous Brothers "Soul and Inspiration" was released in April of 1966, certified RIAA gold on May 5, 1966, and reached a peak billboard chart position of #1.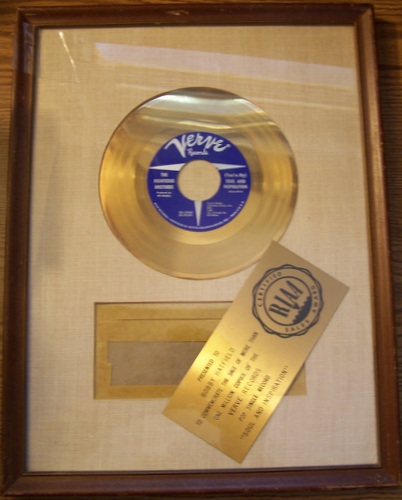 This gold RIAA "White Matte" gold 45 single award presented to Bobby Hatfield is unique because it is the only RIAA gold 45 award that was presented to the Righteous Brothers during the 1960s. None of the hit records that the Righteous Brothers had on both the Moonglow and Philles record labels were certified by the RIAA because neither the Moonglow or Philles record labels were members of the RIAA. In order to be a member of the RIAA a record label would have to pay dues or fees to the RIAA which both Moonglow and Philles elected not to do.
This means that there are no RIAA record awards for early 1960s songs such as "Little Latin Lupe Lu" "You've Lost That Lovin' Feelin" "Hung On You" "Ebb Tide" "Just Once In My Life" or even "Unchained Melody". In fact, no Righteous Brothers 45 record was even eligible for a RIAA award until the Righteous Brothers left Philles Records and signed with Verve Records in 1966.
Because the Righteous Brothers did not have another hit single reach RIAA gold record sales status in the 1960s, the "Soul and Inspiration" RIAA "White Matte" 45 is the only one they received.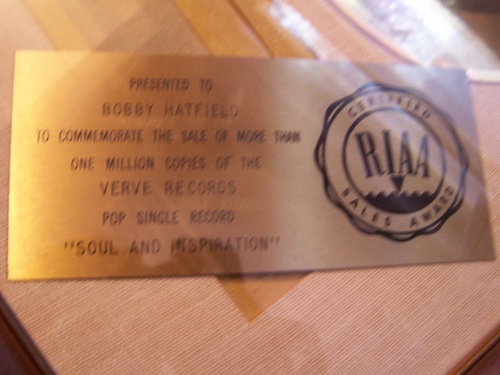 This photograph is of the "Soul and Inspiration" RIAA "White Matte" in its unrestored or "First-State" condition. In the case of this particular award, the metal presentation plate has become dislodged because the 1960s double sided masking tape that originally held it in place has become old and no longer sticky. In the interests of full disclosure, and as a nod to those who believe in "First-State" awards, I am posting photos of this historic and important award in it's first state condition, before any repairs are made.
The following is a short discussion on the condition and restoration of gold and platinum record awards in general and about restoring RIAA "White Matte" awards in particular. Recently the restoration of RIAA White Matte gold record awards has become a topic of some debate in the award collecting community. "White Matte" RIAA awards frequently fall into disrepair due to their age and relative fragility. The deterioration of the 1960s adhesive materials, the gradual oxidation and browning of the white matte material, and the drying and cracking of the walnut frames makes restoration of these awards desirable to many collectors in order to make them presentable.
There is a growing school of thought however, that partly due to the growing scarcity of authentic "First-State" awards (and to make counterfeits more obvious), it is better to leave distressed record awards in their original or "First-State" regardless of appearance or condition. While I do not share this opinion, I do see the value in at least photographing all awards in their original, found condition, so that the original materials used in the construction of the award can be more easily determined thus aiding the authentication of the award.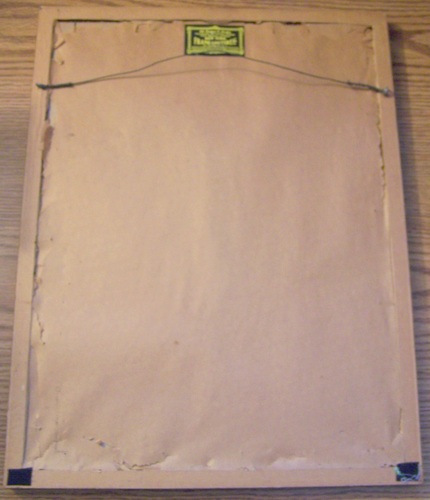 ____________________________________
 If you received awards in the 60′s – 70′s – or 80′s, and want more information on them, please contact me, Jim, at (818) 416-3770 or jim@honormusicawards.com